RUBISS

AUSTRALIAN CHAMPION

USAKOSE TOWN TEMPTRESS {ROM}

"CORKY"

(Sire: Grand Ch. Usakose Talk of the Town (AI)
"Gizmo"
(Dam: Usakose Taylored Edition CD AD) "Shaka"

24 December 1992 - 2 December 2003

Hips 3:4=7      Elbows 0:0

"Corky" is the only RR Bitch in Queensland to have produced 9 Show Champion Progeny including a South African Champion!!!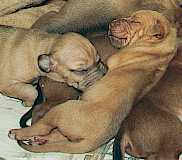 "Corky" (brown nose) as a four day old baby with her black nose sister was such a cutey!  Being the first litter at Usakose to have any brown noses in it she was affectionately known as "the blonde".  When trying to think of a house name for her we were going to name her "Murphy" (after Murphy Brown from the same name series) then a friend suggested "Corky" after the other blonde on Murphy Brown - Corky Sherwood!  "Corky" it stayed!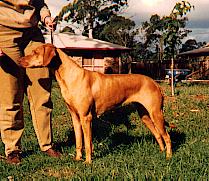 "Corky" is a Multiple Class in Show; Head and Gait in Show Specialty Championship winner as well as a Multiple Class in Group Championship All Breeds winner.

As a breeding bitch she has been outstanding probably due to the fact she is the result of an Nephew/Aunt breeding therefore carrying a strong "Usakose" influence.  To date she has produced Nine Australian Champions with more on their way here in Australia and a South Africa Champion.  Between these Champions they have amassed Multiple Class in Show Awards Championship All Breeds and Specialty including MULTIPLE BEST EXHIBIT IN SHOW CHAMPIONSHIP SPECIALTY!!!

With "Corky's" very last litter born February 2001 we look forward to more wonderful Champions from this gorgeous girl.

PEDIGREE DETAILS






Great Grand Sire:
Am.Ch. Rob Norms Shara G Dagga ROM


Grand Sire:
Am.Ch. Mbada's Mhondoro of Iskandar TT (USA)





Great Grand Dam:
Am.Ch. Ozymandia El Iskandariya





Great Grand Sire:
Ch. Etosha Nikazi


Grand Dam:
Ch. Usakose Ultimate Edition





Great Grand Dam:
Ch. Usakose Patent Pending





Great Grand Sire:
Ch. Asayala Mtoto of Chimu (Imp UK)


Grand Sire:
Ch. Etosha Nikazi





Great Grand Dam:
Ch. Sebakwe Salima CD
Dam: Usakose Taylored Edition CD AD






Great Grand Sire:
Vishala Mitondo


Grand Dam:
Ch. Usakose Patent Pending





Great Grand Dam:
Ch. Sixemm Sweet Thing