MULTIPLE  BISS; RUBISS

AUSTRALIAN CHAMPION

USAKOSE FLYIN FIRST CLASS

"TUBBY"

(Dam: Ch. Usakose Town Temptress ROM
"Corky"
)
DOB: 6 May 1996

Hips 1:1=2     Elbows 0:0

Height : 24 3/4" (18/1/01)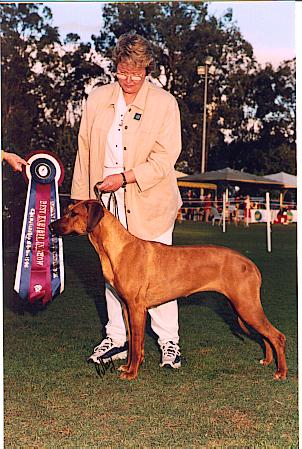 "Tubby" is a Multiple Best Exhibit in Show and Class in Show Championship Specialty winner.  Also Runner Up Best in Show & Best Gaited Bitch Open Specialty winner.

As well she has Multiple Class in Show awards at Championship All Breeds and Hound shows.

Critiques:

Best Exhibit in Show RRCQInc 1999 Mrs Pauline Sadler ..... "Very nicely balanced, feminine bitch, good outline, good ridge, nice femine head and expression, good angulation.  Moves nicely."

Best Exhibit in Show RRCQInc 1998

Mrs Braddick-Smith .... "Well balanced, agile looking bitch.  Attractive well proportioned head.  Good reach of neck and strong level topline.  Well angulated front and rear, smooth ground covering movement.  Altogether an elegant upstanding representative of the breed".

Intermediate in Show RRCSA 1999

Mr B. Fears .... "A beautiful bitch, well presented and nicely put together.  Good head, feet and tail.  Well balanced.  Excellent front assembly.  Very good mover."

Best of Breed Hound Club of Qld 1999

Mrs J. Duthie (South Africa) .... "Very typical of the breed as well as being well balanced with a beautifully feminine head, nice round dark eyes, good ear carriage, strong body, deep chest, good bone, good muscle and moved with plenty of drive."

PEDIGREE DETAILS





Great Grand Sire:
Ch. Marsabit Mfumo


Grand Sire:
Groberspals Yuletide




Great Grand Dam:
Ch. Groberspals Kakadoo




Great Grand Sire:
Kai Ridges Sundance Kid (ImpUSA)


Grand Dam:
Macumazahn Fatal Beauty CD ET




Great Grand Dam:
Ch. Groberspals Nyssa




Great Grand Sire:
Am.Ch. Mbada's Mhondoro of  Iskandar TT (USA)


Grand Sire:
Grand Ch. Usakose Talk of the Town (AI)




Great Grand Dam:
Ch. Usakose Ultimate Edition




Great Grand Sire:
Ch. Etosha Nikazi


Grand Dam:
Usakose Taylored Edition CD AD




Great Grand Dam:
Ch. Usakose Patent Pending
"Tubby" has had her third and final litter of puppies born 26 September 2003.

Orders are being taken for this breeding - this is the only opportunity to acquire

a pup from this outstanding breeding and we have 3 show females and 1 show male.

From "Tubby's" first litter she already has 4 from that litter being Australian Champions.  Between them they have Multiple Class in Groups, Best Exhibit in Group,

Two (2) Best Exhibit in Show (Specialty)!!!

and Multiple Property Class wins at Specialty level including

Best Head; Best Ridge and Multiple Dam & Progeny wins.